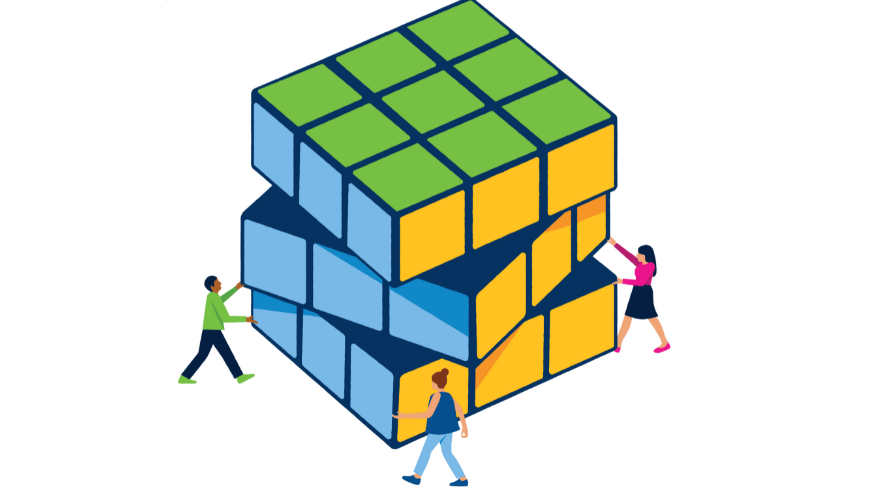 Walmart, the world's largest retailer, acquired Aspectiva in 2019.
Aspectiva became part of a team of 2.3 million Walmart employees that collaborate to serve hundreds of millions of customers across the world.
(This, in itself, was quite a change for a small start-up from Tel Aviv! you can read a bit about it, here)
I joined the company not long after, at the end of 2019, and in my nearly two years in the new Israeli unit, here's what I've learnt about the gentle giant's culture:
From big ideas to significant impact
Small start-ups, not giant corporations, are regarded to be at the forefront of innovation. But, when you have the superpower of size and a big technical organization, leading major changes may be impactful and valuable on so many more levels.
During the last couple of years, I saw some fantastic initiatives growing from the bottom up by several believers, leading massive product changes, starting from the product's core and up to creating internal programs for huge product groups. These initiatives were led with full managerial support and even became the company's focal point and the main direction to generate impact from.
Impact speaks louder than words.
If you already got the initiative buy-in, and the goals are set to be in its direction, You learn that brutal prioritization is not a bad word. Having to justify and carefully plan is the organization's way of keeping your eyes on the target, and since the scale is so large, this prioritization is always in high stakes,
When you're this huge, working together is the only way to go fast.
In an organization that big, you need natural allies. Those that help you drive your impact, and that you help them with theirs. Allies come to be by creating meaningful relationships with people across the globe, understanding your partner's needs and wants, and always seeking where you can help their goals.
Always be willing to learn and grateful for feedback
The people you are working with are all brilliant and intelligent. In most rooms- you would not be the smartest man standing. Every person you meet is an expert in their field, and this is such a huge opportunity to work and learn from these talented people. If you are open to learning, this collaboration will make you a better, more competent professional.
Over-communicating is an understatement
When working with so many teams and people, you never know what context they already share, what they already know, and how well they understand your product. This is where over-communication is at its extreme. You always need to minimize the assumptions and provide vast information. Even if it seems trivial, or you think you've said it before- your goal is to make sure you and your collaborative team are 100% aligned. No matter how you get there.
Adapting to change is the base for success
In a large organization, a lot of things happen at the same time. We are not always able to be aware of it all. It is always important to be adaptive to change. But in a large organization, it is even more clear that managing changes and leveraging them is sometimes the secret weapon of a successful employee.
No matter the rest, people first, always.
In the last 18 months, Covid has shaken our lives in many different manners.
Most tech organizations have transformed to WFH, and our lives are never to look the same since. But if one thing is clear in working through a world pandemic, having a workplace that thinks of its people first is something you must value.
Whether it was to help associates get their vaccinations or to support workers reduce their work hours and global talks while a Covid wave was in their area.
You learn how important it is to be seen as a person first, and what a privilege it is to work at a place that declares that as one of their core values and follows through on it.
Two years is just the beginning
Being a part of the Walmart product team has taught me how to be a better, more adaptable product manager, communicator, ally, and team player, and that's only the beginning.
In a business of this size, there is so much more to learn, grow, lead, and shape.
I consider myself fortunate to work for a company that values people and impact, and I am grateful to be able to contribute to its goals while assisting millions of people on a daily basis.